Working from the pattern designed by Zieber Quilts, together we will make an authentic reproduction chintz medallion quilt. Students can choose to swap (or not) 6 1/2" squares with other students and the teacher in order to create a truly scrappy look. Beginners through advanced quilters will love the flexibility of this pattern and the ease in which a secondary design can be added for a truly historic look.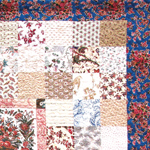 Print the supply list to determine what is needed for the workshop.
Leah's website provides more information about her classes.